Edna Mayne Hull was born May 1st, 1905 in Brandon, Manitoba, her parents having recently immigrated to Canada from England. After working as a private secretary for an influential Texan living in Alberta, she moved back to Winnipeg, where she met van Vogt at a writers' group. At that time he had written a plethora of confession stories and radio plays, and she had written articles for magazines. They got married on May 9th, 1939, shortly before his first SF story "Black Destroyer" was published.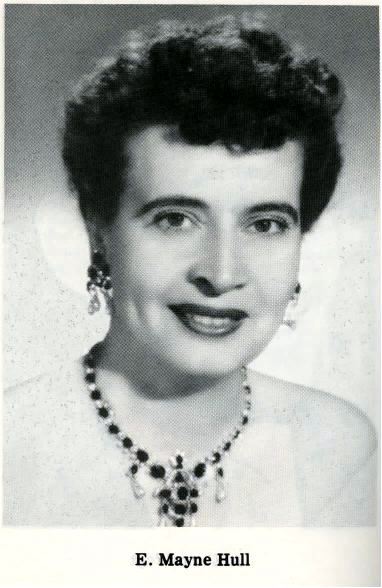 For most of van Vogt's writing career, Hull was her husband's typist. She had secretarial training, and was well versed in the use of the typewriter. Van Vogt, on the other hand, typed using his index fingers, poking away at the keyboard. As a result, her typing was much faster and more efficient than his. According to the official version of events, after typing out so many of his stories in the early '40s she began to get ideas for her own and under her husband's tutelage she wrote several stories and one novel, all of which appeared in Astounding Science Fiction and Unknown Worlds. Sadly, the truth seems to be that van Vogt himself wrote these tales under her name.
Hull had a life history of health problems. In 1939 she had an operation that involved the removal of her appendix, and the incision was sewn up incorrectly, a mistake which caused her great pain for many years. Throughout the '40s she was plagued by tumors and cysts, but starting in 1950 she — like van Vogt — became heavily involved in Dianetics. For the next two decades she was overall an exceptionally healthy person, health which she attributed to Dianetics.
One of her closest friends succumbed to cancer in 1970, a malady that she herself contracted shortly thereafter. After several operations, the doctors diagnosed the cancer as terminal. Van Vogt however withheld this information from her, fearing that if she was aware of her condition, the cancer would only accelerate. She and her husband took a final trip to her homeland of Canada in 1973 to visit her siblings. It was shortly after this trip that the cancer began to spread, and her condition deteriorated over the next year and a half. She died on January 20th, 1975.