The following interview is copyright ©2006, 2011 by Isaac Walwyn.
Like any SF fan, I have a mental list of my favorite book covers. Remarkably, unlike any other artist, all four of Gerry Daly's covers for van Vogt novels hold places of special honor on that list. Indeed, when creating the navigation banner at the top of every page here on Sevagram, I felt that Gerry's covers best encapsulated everything marvellous about van Vogt, so both of the images in the banner are Gerry's.
Granted, he isn't a prolific artist, but what he lacks in quantity he's more than made up for in quality. Even from such a small sampling, it can be seen quite clearly that Gerry is one of the most talented illustrators ever to work in the SF field...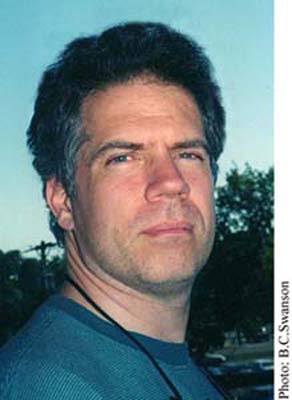 ...And yet many of the world's greatest authorities on SF art are completely ignorant of Gerry and his work. His name does not appear in any of the SF art books or encyclopedias. The internet is completely bare of any information on him — just the occasional cover art credit. Imagine my surprise, then, when one day an email from none other than Gerry Daly appeared in my inbox. He had come across my site and decided to contact me. Not one to waste such priceless opportunities, I asked if he would be willing to be interviewed. He happily agreed, so I came up with a list of questions.
So it is with honor and delight that I am able to present this interview — which also gives a wonderful behind-the-scenes look into the world of book illustration — and hope that it will serve to bring more attention to this undeservedly neglected artistic genius.
(October 22nd, 2011 — Since this was the very first interview I ever conducted, I asked the occasional silly question which in retrospect I find deeply embarrassing. It's a great testament to Gerry that he nonetheless did his best to give a dignified answer to all my questions. In the years since interviewing him, I've regrettably lost contact with him, but I hope he's continuing to share his incredible talents with the world.)
Isaac:

First of all, I know how to pronounce "Gerry" but how do you pronounce "Daly"? Does it rhyme with "alley" or "bailey"?

Isaac:

How about some biographical data? When and where were you born? Do you have any brothers or sisters? Did you go to art school, and if so which one? You know, that sort of thing.

Isaac:

How did you first get involved in doing cover art for books?

Isaac:

As far as I know, you seem to have worked mainly for Pocket Books' line of science fiction novels. How much did you work elsewhere, and for whom? Do you have a special affection for the genre, or is that just the way things worked out?

Isaac:

What other artists are you acquainted with?

Isaac:

I've always wondered about the process of doing art for publication, so the next few questions will relate to that. If some of these questions strike you as the product of extreme idiocy, please bear in mind that I know virtually nothing about such things but I am eager to learn, and sometimes a stupid question is the only kind of question.

To start with, does a publisher approach you to do a specific cover just out of the blue? Or have you often had previous contact with whomever commissions the art?

Isaac:

On the average, how much time do you have to complete the painting?

Isaac:

I think it's fair to say that the cover is one of the main selling points of any book. For instance, when I'm browsing in a bookstore my eye is often caught by an interesting title. But once I pull it off the shelf, it's the cover that creates the first powerful impression of the the book — one's imagination starts spinning immediately, and a whole new world is vaguely formed in my mind. This vague world is often enhanced or crushed by the blurb, but that initial impression is truly indelible. In view of this important role in the book-buying experience, I imagine the cover artist would be well rewarded for his efforts, but the real world is seldom as fair as that. So if you'll excuse the indelicate question, may I ask how much money an average cover commission earns?

Isaac:

How big is the painting?

Isaac:

Is the image transferred to the book cover using photography, or some other method?

Isaac:

What generally happens to the painting once it's been photographed for the cover? Do you keep it? Does the publisher own it?

And what about the image's copyright status? People (myself included) nonchalantly fling about scans of book covers, though the images are presumably owned by somebody. Do you own the rights to the painting, or does the publisher? Do the rights revert to you after a predetermined period of time?

Isaac:

Is it possible to register an artistic work with the U.S. Copyright Department, in the same way that it's possible to send in a manuscript? If so, exactly how does one go about it? I'm assuming you don't send them the actual painting...

Isaac:

Now that we've dealt with the generalities, let's get down to specifics. I've always been struck particularly by the almost "iconic" style of your covers — the focus on a single emblematic image, a simple yet effective thematic encapsulation of the entire book. How are you able to achieve so much with so little? I get the impression that when you read a book in order to create a suitable cover for it, you're especially sensitive to the "feel" of the story as well as the setting, and that you try to capture this in your paintings.

Isaac:

When you were working on the four van Vogt covers, did you toy with different scenes to depict from each book before deciding on one in particular? And did you have several different approaches to a single scene before deciding on one interpretation?

Isaac:

Which of those four painting did you most enjoy creating? And which are you the most satisfied with now, twenty-five years later?

Isaac:

Do you still own any of these particular paintings? Do you sell any of your paintings to individuals? In short, can I buy one?

Isaac:

Oh well. It was worth asking!

What sort of things are you up to nowadays? Book covers, or something else? How much non-commercial art do you do? In other words, how much do you do for your own satisfaction? And what subjects do these personal works cover (SF, landscapes, nature scenes, etc.)? For instance, apart from his SF work, John Schoenherr apparently does a lot of nature scenes.

Isaac:

Well, Gerry, I've really enjoyed this opportunity to converse freely with my favorite SF artist. If someone had told me a year ago that I'd be interviewing Gerry Daly, I would have called them nuts. Opportunities like this happen very rarely in one's lifetime, so I really appreciate your willingness to be cross-examined like this, to share more about yourself, and to give such a wonderful insight into your artistic creations.
Interview © 2006, 2011 by Isaac Walwyn